Protect Your Jeep With The Best Grille Insert Ever!
Paws Old Glory
$135.00
Fast & Free Shipping!
• Best grille inserts ever made
• Made in USA
• Rust-Proof, perforated aluminum withstands all types of weather and road conditions
• Radiator and engine will receive proper airflow while protecting the front of your Jeep
• Fast & easy to install in 15 minutes. No hardware or drilling required
• High quality printing protected by auto-grade clear coat
• Lifetime guarantee – if it breaks, we'll replace it, no questions asked
• Fits these Jeep models: JK/JKU: 2007-2018; JL/JLU: 2018-Current; JT: 2020 models without front trail camera

Also available in:
• Hundreds of other designs Click Here
• Create your own custom grille insert – printed with your own design. Click Here
• Make it a double-sided grille insert by adding a 2nd design.
See Our Grille Inserts in Action!
See How Fast & Easy Installation is...
JL & JT Grille Insert Installation
JK GRILLE INSERT INSTALLATION
Customer Reviews
01/24/2021
Julia

United States
Quality product
I love my Paws Old Glory. The insert has a weight to it, the coating/paint is nice and smooth and easy to install. Just remove the 6 clips at the top of the grill. I did pull the bottom pout too so I could set it straight and then pop the grill back on. I love the way it looks and goes with my "Paw Hauler" theme of my Jeep. It was shipped timely (by Under the Sun), USPS took a bit longer, but not an issue. All shipping takes longer right now. Very happy customer.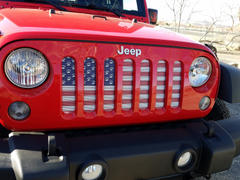 01/21/2021
Edward A.

United States
01/20/2021
Matthew D.

United States
Great support and great product
I wanted a custom two side insert. One with our rescue diver/emt logo, and one supported email,fire fighters, and police officers. I sent to mock ups of what I wanted to the team and the did a great job creating what I envisioned. The whole process took 3 days and then it was shipped to my door. I will be order again in the future for others.
01/19/2021
Brandon B.

United States
01/18/2021
Nicole M.

United States
JLs are a little trickier
The video was helpful. The email did have video links on installs for both the JK and JL. I have a JL and it was a little trickier to install than the JK but we got her done. At first I wasn't sure if it would rattle because there are tabs that stick out or the grill on the inside and it hits part of the insert on the edges and not at all in the middle (due to the curved nature of the Jeep grill shape). But so far no problems.
Choose your double-sided insert design
START BY PICKING A THEME
< back
< back